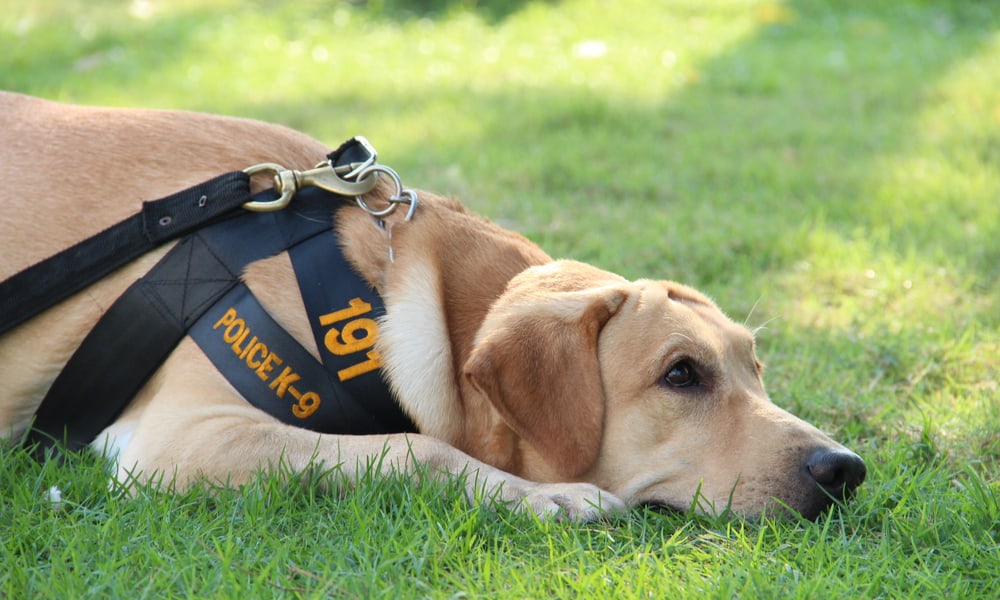 For cannabis consumers still living under prohibition, just the sight of a drug-sniffing dog is enough to send pulses pounding. But in New Jersey, that's about to change. Fielding questions from lawmakers during an Assembly budget hearing, New Jersey Attorney General Gurbir Grewal confirmed that police would no longer train K9 dogs to detect the smell of marijuana. The decision follows a national trend toward training police canines to ignore marijuana and focus on the detection of other substances.
New Jersey Police Won't Train New K9s to Detect Marijuana
During Wednesday's Assembly budget hearing, a New Jersey lawmaker asked Attorney General Grewal how cannabis legalization would impact police dogs. According to the AP, Grewal saidthat the currently pending measure to legalize cannabis for adult use prompted police departments to halt marijuana detection training.
The absence of a clear majority supporting that measure, however, has delayed a decision until later this year. Lawmakers had originally scheduled a vote on the bill for April 1. But with Senate President Stephen Sweeney citing "substantial progress" on the plan, Democratic lawmakers and Gov. Phil Murphy are continuing their push.
With legalization still a strong possibility, police departments aren't committing resources to train weed-sniffing dogs unless there's a demand. "It's possible to train dogs to detect marijuana in the future if needed," Grewal told lawmakers.
For critics of the police's use of drug-sniffing dogs, the policy shift is a welcome one. Since the late 1960s, dogs that sniff for drugs have faced controversy. Since dogs don't know the law, they can and often do violate due process by conducting "searches" without a warrant. Furthermore, a 2011 Chicago Tribune exposé revealed how drug K9s pick up on and follow the biases and prejudices of their handlers.
The fact is that drug dogs constantly get it wrong and trigger false alerts. This lack of reliability has led judges to throw out many cases due to inadmissible police-dog evidence. Others have ruled that drug-sniffing dogs violate individuals' right to privacy.
Police Will Reassign Weed-Sniffing Dogs to Schools and Jails
An end to the training of dogs to detect marijuana odors is a welcome change from a cannabis reform perspective. But changes to K9 training protocols often raise concerns about what happens to police pooches when they exit service. As Grewal told lawmakers, it's not possible to "un-train" a K9 that's knows how to detect cannabis.
But even if New Jersey legalizes an adult-use industry, state police will still have assignments for weed-sniffing dogs. Marijuana will still be prohibited in places like schools and jails, and New Jersey police plan to reassign qualified K9s to those duties.
The decision to end cannabis detection training for K9s is part of a broader winding down of marijuana law enforcement across the state. In August 2018, for example, Grewal instructed all municipal prosecutors to adjourn any marijuana-related cases.